eco2go Extra Heavy-Weight Medium 20 gal. Wash N' Fold Bag - 18" x 10" x 14 1/2" - Black
{{resource("/ProductPage/Labels/StockNumber")}}

{{displayVariant.DisplayCode}}
{{resource("/ProductPage/Labels/Sale")}}
${{displayVariant.Price.PurchasePrice | toDisplayFormat}}
{{resource("/ProductPage/Labels/Was")}}
${{displayVariant.Price.WasPrice | toDisplayFormat}}
{{resource("/ProductPage/Labels/List")}}
${{displayVariant.Price.ListPrice | toDisplayFormat}}
{{displayVariant.PromotionalText}}
---
{{resource("/ProductPage/Labels/Options")}}
---
{{displayVariant.InventoryStatus}}
{{format(resource("/Shared/Label/EstimatedArrivalDate"),displayVariant.ShippingEstimate)}}
{{format(resource("/Shared/Label/BackOrderedEstimatedArrivalDate"),displayVariant.ShippingEstimate)}}
{{format(resource("/Shared/Label/DiscontinuedOutOfStockEstimatedArrivalDate"),displayVariant.ShippingEstimate)}}
{{resource("/ProductPage/Labels/VolumePricingHeader")}}
{{resource("/Shared/Label/QuantityTable/Qty")}}

{{volumePrice.Quantity}}+ {{resource("/Shared/Label/QuantityTable/Each")}}

{{volumePrice.Quantity}}+

{{resource("/Shared/Label/QuantityTable/Price")}}

${{volumePrice.Price.Amount | toDisplayFormat}}

{{resource("/Shared/Label/QuantityTable/Save")}}

—

{{volumePrice.Save | toDisplayFormat}}%
{{format(resource('/ProductPage/Labels/SoldInIncrementOf'),displayVariant.SoldInIncrements)}}
{{format(resource("/ProductPage/Labels/MinimumOrderQuantity"),displayVariant.MinimumOrderQuantity)}}
These bags are heavy-duty! Made with Extra Heavy-Weight material.
Used to transport clothing to and from wash and fold laundry locations. Made of a durable woven PVC base and has an extended cover 10" high to cover clothes. Comes with draw cord, removable PVC base, 2 handles for carrying, grommets and a 5" x 9" pocket with snap closure for invoice on the side. Very rigid and will stand in the closet well. Bag measures 18" x 10" x 14-1/2". Available in a variety of colors and blank or custom printed. Dry cleaning is not recommended on custom printed bags and there is a minimum purchase of 50.
Features
Used in wash and fold operations
Made of extra heavy-weight polyester with a PVC coating
Features a removable PVC base, 2 carry handles and 5" x 9" pocket on the side
Used to transport cloths
Product Specifications
Size / Dimension:
18" L x 10" W x 14.5" H
Material:
Extra Heavy-Weight Polyester/PVC Coated
Your Customers Will Love These Durable Wash N' Fold Eco2Go Bags
Pack 'Em Up
Keep wash and fold customers coming back. They drop off the bag packed full of dirty laundry, and you wash and fold them back into this 600-denier bag.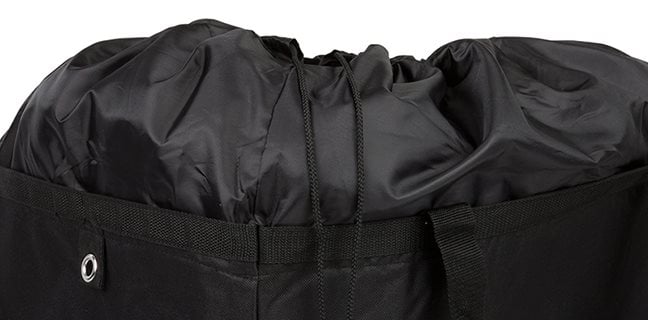 Extended Cover Protects
Keep those clean, folded clothes protected with an extended cover that secures with a locking closure.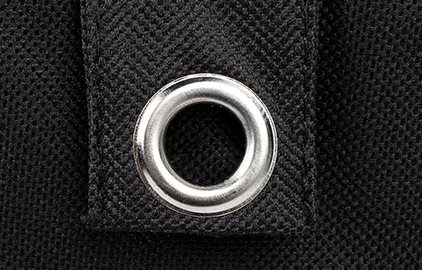 GRIPPER-LOCKED GROMMET
Secure Express Bag Tags with this convenient grommet that won't loosen or fall off. Customers remain clearly labeled.
SELF-LOCKING CLOSURE
Keep bags tightly closed. Our self-locking closures don't slip so your wash and fold laundry stays clean.
SHOW CUSTOMERS THAT YOU CARE
By choosing to use our eco2go Bags, you show your customers that you care about the environment.
How many pounds of laundry can this bag hold?
Posting As
Please Note: Your answer will be displayed upon approval.
A:
This bag holds approximately 25lbs.
Can these bags be custom manufactured? As in a different color base vs the nylon topr?
Posting As
Please Note: Your answer will be displayed upon approval.
A:
No, sorry. The bags are pre-constructed. We cannot custom make them.
How do you clean these bags? Can custom printed bags go through the washing machine and dryer many times?
Posting As
Please Note: Your answer will be displayed upon approval.
A:
These bags could be machine washed on gentle or delicate cycle. Do not bleach. Tumble dry gentle. Do not iron. Do not dry clean. Remove the plastic base prior to cleaning. We recommend that the inside of the bags be wiped down with a disinfecting wipe in between washings.
What are the dimensions for the custom print area?
Posting As
Please Note: Your answer will be displayed upon approval.
A:
The custom print area is 14" x 10".
No Results
January 06, 2021
Great bags.
These bags are great. They fit quite a bit of laundry. They are easy to carry and are great for storage when not in use. I highly recommend.
Hi Gregory, thank you for your review.