eco2go Non-Woven "Easy Load" 2-in-1 Laundry Bag W/Strap, Zipper & Gusset - 48" - Black
{{resource("/ProductPage/Labels/StockNumber")}}

{{displayVariant.DisplayCode}}
{{resource("/ProductPage/Labels/Sale")}}
${{displayVariant.Price.PurchasePrice | toDisplayFormat}}
{{resource("/ProductPage/Labels/Was")}}
${{displayVariant.Price.WasPrice | toDisplayFormat}}
{{resource("/ProductPage/Labels/List")}}
${{displayVariant.Price.ListPrice | toDisplayFormat}}
{{displayVariant.PromotionalText}}
---
{{resource("/ProductPage/Labels/Options")}}
---
{{displayVariant.InventoryStatus}}
{{format(resource("/Shared/Label/EstimatedArrivalDate"),displayVariant.ShippingEstimate)}}
{{format(resource("/Shared/Label/BackOrderedEstimatedArrivalDate"),displayVariant.ShippingEstimate)}}
{{format(resource("/Shared/Label/DiscontinuedOutOfStockEstimatedArrivalDate"),displayVariant.ShippingEstimate)}}
{{resource("/ProductPage/Labels/VolumePricingHeader")}}
{{resource("/Shared/Label/QuantityTable/Qty")}}

{{volumePrice.Quantity}}+ {{resource("/Shared/Label/QuantityTable/Each")}}

{{volumePrice.Quantity}}+

{{resource("/Shared/Label/QuantityTable/Price")}}

${{volumePrice.Price.Amount | toDisplayFormat}}

{{resource("/Shared/Label/QuantityTable/Save")}}

—

{{volumePrice.Save | toDisplayFormat}}%
{{format(resource('/ProductPage/Labels/SoldInIncrementOf'),displayVariant.SoldInIncrements)}}
{{format(resource("/ProductPage/Labels/MinimumOrderQuantity"),displayVariant.MinimumOrderQuantity)}}
EASY-LOAD 2-IN-1 BAG HOLDS MORE.
This reusable converta bag with a strap assures your customers you're thinking green while giving them a versatile counter bag that converts into a garment bag for their pick-up order. The bags are made out of heavy-weight non-woven material, feature a zipper opening and draw cord on the bottom and a 6" gusset. Bag measures 48". Available blank or custom printed. Dry cleaning is not recommended on custom printed bags and there is a minimum purchase of 50. Bag color may vary from picture due to computer setting variances. Patent pending.
Features
Heavy-duty, durable and long lasting
2-in-1 bag
Features, strap, zipper, invoice pocket and gusset
Draw cord on the bottom
Product Specifications
Material:
Non-Woven Polypropylene
Size / Dimension:
25" W x 48" L
"Easy-Load" 2-in-1 Bags Hold Even More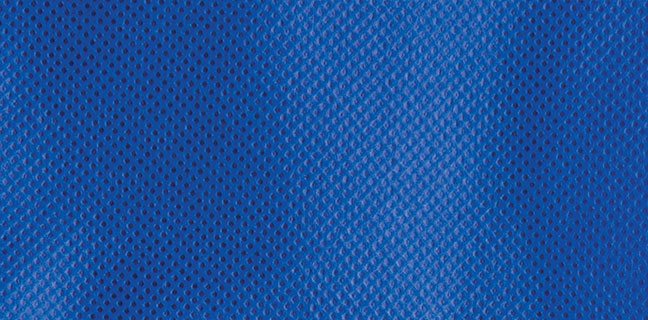 Non-Woven Fabric
Our reusable non-woven bags are an economical option.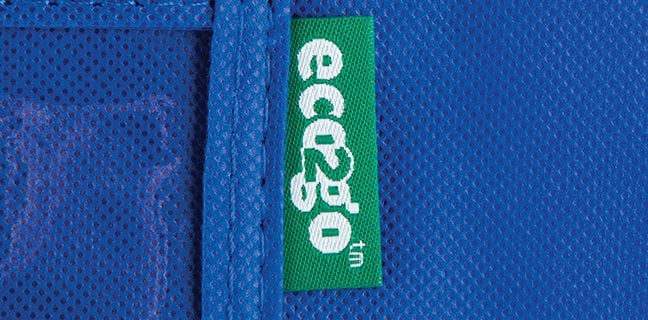 SHOW CUSTOMERS THAT YOU CARE
By choosing to use our eco2go Bags, you show your customers that you care about the environment.
"Easy Load" For Simpler Bagging
Our "Easy-Load" eco2go 2-in-1 Bags fully open on the bottom, making loading your garments simple.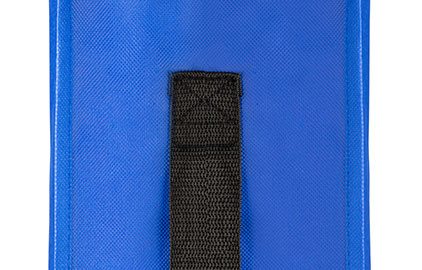 20% Wider 6" Gusset
The full 6" gusset gives you plenty of room in these 2-in-1 Bags. 20% bigger to hold even more.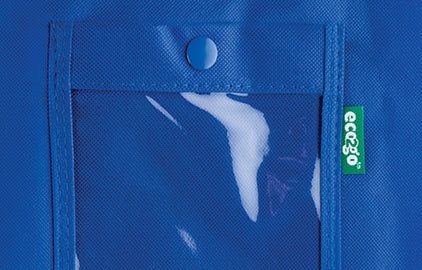 SNAP CLOSURE INVOICE POCKET
Securely place customer invoices inside the clear plastic pocket with a secure snap closure.
Free 22" x 28" Poster
Receive a FREE marketing poster with all 2-in-1 custom print orders! Show your customers you care.